Chado Urasenke Tankokai Michigan Association Welcomes North America
By Morgan Somon Beard, Chief of Administration for Urasenke Philadelphia Association, and a sensei within the Association.
May 6, 2017 — The Michigan branch of the international Urasenke Tankokai Federation opened their hearts to practitioners from across North America to celebrate their tenth anniversary on May 6 and 7, 2017.
The event began on Saturday morning with koicha and usucha seatings hosted by the association. Our hosts worked hard to transform the hotel setting into a tea space, bringing live plants, lanterns, and tsukubai stones to create a tea garden in the vicinity of each tea space. The utensil selection was a tribute to Urasenke's presence in this country, featuring many items from Hounsai Daisosho and Zabosai Oiemoto.
In the afternoon, the floor was turned over to regional associations from throughout the continent. Two groups came from Illinois, one representing the Chicago Association and the other a student group from University of Illinois at Urbana-Champaign. The Northeast, the Pacific Northwest, Los Angeles, and the Urasenke Midorikai Alumni Association were represented with four other groups. The Chicago Association offered tea with a ryurei set created by their President Dean Raffaelli. The other groups assembled tray-style ryakubon tea, sharing this simple tea preparation with a small group of guests, no more than ten for each seating. Guests were encouraged to circulate among the six groups and to enjoy tea.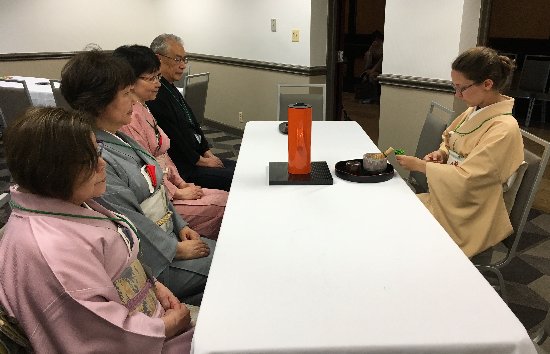 I was fortunate to be able to participate in the afternoon tea as both host and guest. As a host with the Urasenke Midorikai Alumni Association, I experienced the joy of offering tea for old friends and new, sharing stories and memories about the utensils that were used, including many pieces that had appeared at previous anniversary celebrations in other cities. As a guest, I experienced the local flavors and colors of many regions, and enjoyed the many different ways that others have adapted local materials, objects, and imagery into their tea practice. One of the highlights for me was the Urbana-Champaign student gathering, where we witnessed budding tea people apply their whole hearts to the creation of tea.
The next day, we were all treated to two special events. First, Machida Soho, a gyotei sensei from Urasenke Konnichian, conducted a morning workshop in which four temae were taught, in addition to a discussion of warigeiko. No matter how many years you've studied tea, there's always some new revelation to be gained from listening to a gyotei sensei, and we were particularly fortunate to be able to learn from Machida sensei. Christy Bartlett, director of the Urasenke Foundation San Francisco, translated for the English speakers among the participants.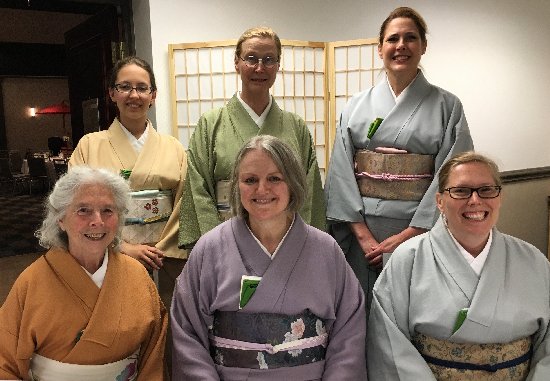 The event wrapped up with a lecture from Dr. Hideji Sekine on the influence of Chinese philosophy on chado. This is a huge topic, and the audience came away with a new way to think about the relationship of tea utensils to each other and how the tearoom becomes a representation of the universe in miniature.
I know I speak for all participants when I express my profound gratitude to all the members of Chado Urasenke Tankokai Michigan Association for their hard work and wonderful welcome to make this a one-of-a-kind event.